Sports teach us the requirement of sacrifice, discipline, elegance, liberality, and solidness, which enable us to effectively lead life. These characteristics in a man carry superfineness to act effectivity regardless of the circumstance and the task they come across.
After going through this post, you will be able to understand the Value of Sports.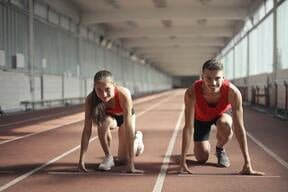 ---
The Value of Sports Essay (550+ Words)
---
Sports are an essential part of our lives, just as much as education and other essential things. They provide entertainment and a much-needed break from the daily grind of studying. Outdoor sports are especially beneficial as they allow students to connect with nature and breathe in fresh air. Physical exercise while playing games helps keep them physically and mentally fit, which is vital at their age.
But sports are more than just physical activity. They teach valuable life lessons such as discipline, collaboration, leadership, judgment, courage, and determination to win. These lessons help students develop their personalities, making them more well-rounded individuals. Sports also teach sacrifice, elegance, liberality, and solidity, which are essential traits for success in life. Citizens with such potential can contribute a lot to society and the country to which they belong.
In addition to this, sports provide an outlet for excess fat and weight, keeping students healthy and active. It is an excellent means of utilizing time in a positive way and avoiding undesirable activities.
India, as the second most populated country in the world, should have a high standard in all sports. However, this is not the case. The best institutions for creating sports activities are schools and colleges, and making sports compulsory in all schools and universities is crucial. It will facilitate the country in selecting the best teams out of the crowd and help India improve its image in sports.
The benefits of sports go beyond physical fitness and life lessons. Great athletes become well-known in the public arena, earning name and fame for themselves, their institutions, and the country. Sports provide various opportunities for good and position holders, including good jobs in reputed organizations. Some athletes even choose sports as their profession and make a good living from it, with opportunities to travel to various destinations and appreciate life.
However, the majority of great athletes come from Western and other developed countries. The reason is simple; they play games and sports right from childhood and primary school. India is making progress in this area, and now has the resources to afford expenditure on sports activities from the primary level. Providing opportunities from the beginning will enable India to improve its image in sports and increase the number of athletes.
Making sports a compulsory subject and adding marks to the result can attract students towards hard work with an interest in succeeding in sports. The Government and the school administration must ensure adequate sports facilities in all schools and colleges to inspire students to take part with a more prominent interest.
It is essential to maintain the nobility of sports while creating a sports atmosphere in all schools and colleges to attract a maximum number of students to take part in the events. Teachers must ensure that students are given the opportunity to show genuine ability, effortlessness, nobility, and liberality. The aim of every student should be to accomplish a good position in sports activities.
In conclusion, sports are not just a source of entertainment, but also a vital means of physical and mental fitness, life lessons, and opportunities. It is crucial to make sports a part of every student's life, starting from the primary level, to enable them to develop into well-rounded individuals and contribute positively to society and the country.
You Asked, We Listened – Get Free Access to All Writing Lists 😍😍
---
Also, Read
---
Daily Reading Comprehension Test - Attempt Now