Rakshabandhan is a light-hearted festival that shows the bond and love between brother and sister. Rakshabandhan is a Hindu festival celebrated with great zeal and enthusiasm throughout India.
Rakshabandhan is celebrated in the month of Shravan(Sawan) in the Hindi calendar which falls in August.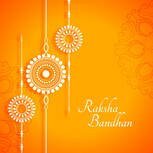 ---
Rakshabandhan
---
Rakshabandhan is a joyous festival that signifies the bond and love between siblings. It is widely celebrated in India with great enthusiasm, typically falling in the month of Shravan (Sawan) in the Hindi calendar, which corresponds to August.
This ancient festival holds a significant historical background, even observed by gods and goddesses. According to the Vishnu Purana, when the demon king Bali asked Lord Vishnu for a boon, he requested that Vishnu live with him in his palace. Lord Vishnu accepted Bali's request and resided in his palace.
However, Goddess Lakshmi, Lord Vishnu's wife, desired his return. To bring about this reunion, Lakshmi tied a rakhi (a sacred thread) on Bali's wrist and became his sister. In return, Bali asked Lakshmi what she would like as a gift. She requested the release of Lord Vishnu and his return to his abode, Vaikunth. Bali graciously accepted her request, thereby exemplifying the love and responsibility a brother holds for his sister.
The festival of Rakshabandhan is celebrated with immense joy and enthusiasm. It is a delightful occasion that enhances the magical bond and love among siblings. Regardless of age, brothers and sisters partake in the celebrations, creating cherished memories and reinforcing their relationship.
The connection between siblings is exceptionally unique, characterized by care and affection that knows no bounds. While verbal quarrels may arise, siblings stand behind one another in times of need. Love and joy persist amidst occasional strife. Throughout life's stages, brothers and sisters support and strengthen each other, fostering a deep bond.
Rakshabandhan serves as an occasion to reinforce this bond. It is a day dedicated to celebrating and acknowledging the beautiful relationship between siblings. It symbolizes their affection, togetherness, and unwavering trust in one another.
The term "Raksha" means protection, while "Bandhan" signifies bond. Sisters pray for their brother's well-being, prosperity, and flourishing life. In return, brothers promise to protect their sisters in any circumstance throughout their lives. Raksha Bandhan encompasses the love and responsibility that brothers and sisters hold for one another. This festival is not limited to tying rakhis between siblings but also extends to cousins and other individuals who wish to nurture brother-sister relationships.
Brothers and sisters eagerly await this special day and begin it with joy and enthusiasm. They dress in new attire and gather together. The sister ties a sacred thread called a "RAKHI" around her brother's wrist, offering prayers for his good health and long life. She presents sweets to her brother and, in return, receives heartfelt gifts. Sisters are showered with love through chocolates, gifts, money, dresses, and more.
During Rakshabandhan, family members dress elegantly, often wearing traditional attire. Vibrant rakhis and various gifts fill the local markets. Each year, fashionable rakhis are available, and sisters strive to choose the best for their brothers. Brothers spend considerable time contemplating the perfect gifts for their sisters.
Rakshabandhan is not only celebrated by Hindus but also by followers of other religions. It is observed not only in India but also in countries like Nepal, Pakistan, and Mauritius. In Sikhism, Raksha Bandhan is known as "Rakhardi" or "Rakhari."
FAQ (Frequently asked questions)
---
Q.1 What is the festival of Raksha Bandhan called in Sikhism?
In Sikhism, Rakshabandhan is celebrated as 'Rakhardi' or 'Rakhari'.
Q.2 Who started the Raksha Bandhan in Bengal?
Q.3 Who did Goddess Lakshmi in Vishnu Purana tied rakhi?
Goddess Lakshmi tied a rakhi on Bali's wrist and became his sister.
Q.4 When do we celebrate Raksha Bandhan?
Rakshabandhan is celebrated in the month of Shravan(Sawan) in the Hindi calendar which falls in August.
Q.5 Why is Raksha Bandhan celebrated?
Rakshabandhan refers to the brother's love and responsibility to his sister and the sister's love and responsibility to his brother.
---
You Asked, We Listened – Get Free Access to All Writing Lists 😍😍
---
Also, Read
---
Copyright Notice:📚 Teachers and students are granted permission to use, reproduce, and distribute this content solely for educational and non-commercial purposes. 🚫 Unauthorized copying, distribution, or reproduction for commercial purposes is strictly prohibited. Any infringement may result in legal action. 
---
Daily Reading Comprehension Test - Attempt Now