India is known as the land of festivals because of its cultural diversity, faith, and religious beliefs among people of different religions.
In this post, we have added the top 15 lines on Janmashtami.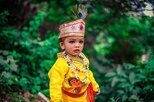 ---
Lines on Janmashtami
---
Janmashtami, a vibrant Hindu festival, celebrates the birth of Lord Krishna, the eighth avatar of Lord Vishnu.
Lord Krishna was born in Mathura around 5,200 years ago, and his birth was a significant event in Hindu history.
Janmashtami is observed on the eighth day of Krishna Paksha in the month of Bhadrapada, usually falling in August or September.
The festival is marked by fasting, chanting of Bhagwad Gita, and the decoration of temples with colorful lights and flowers.
Dahi Handi, a popular activity, involves forming human pyramids to break earthen pots filled with curd, reminiscent of Krishna's love for butter.
Janmashtami unites people from all walks of life, promoting togetherness and communal celebration.
The festival encourages belief in good deeds and serves as a reminder of the victory of good over evil.
Lord Krishna's teachings, particularly about karma and devotion, inspire individuals to lead happy and successful lives.
Janmashtami is celebrated with enthusiasm, joy, and exchange of gifts among friends, relatives, and neighbors.
Singing bhajans and performing traditional dances are integral parts of the festive celebrations.
The festival instills a sense of spirituality and devotion in people, reinforcing their faith in a higher power.
Janmashtami holds immense cultural and religious significance, not only in India but also among Hindus worldwide.
It commemorates the divine birth of Lord Krishna, who played a crucial role in the epic Mahabharata.
The festival also highlights Krishna's mischievous nature as a child, particularly his love for stealing butter.
Janmashtami brings communities together, fostering a sense of unity, love, and brotherhood among individuals.
The vibrant decorations, lively celebrations, and the participation of all ages make Janmashtami a festive occasion to cherish.
---
You Asked, We Listened – Get Free Access to All Writing Lists 😍😍
---
Also, Read
---
---
Daily Reading Comprehension Test - Attempt Now