India is known as the land of festivals because of its cultural diversity, faith, and religious beliefs among people of different religions.
Janmashtami is a Hindu festival celebrated for the birth of Lord Shri Krishna Vasudev, the eighth avatar of Lord Vishnu.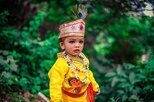 ---
Janmashtami Essay in English 850 Words
---
Janmashtami, an exuberant Hindu festival, commemorates the birth of Lord Shri Krishna Vasudev, the eighth avatar of Lord Vishnu. This festive occasion is celebrated with immense fervor and enthusiasm across India. Janmashtami typically falls in August or September, on the eighth day of Krishna Paksha in the month of Bhadrapada, as per the Hindu calendar.
With a rich historical significance, Janmashtami holds great importance in the hearts of Hindus. Approximately 5,200 years ago, Lord Krishna was born in the city of Mathura, located in present-day Uttar Pradesh, India. Lord Krishna was the eighth son of Devaki and Vasudev, and during his birth, his parents were imprisoned by the malevolent King Kansa of Mathura. To protect the newborn Krishna from Kansa's evil intentions, Vasudev entrusted him to his cousin Nanda. Thus, Krishna was raised in the loving care of Nanda in Gokul. Over time, Krishna grew strong and ultimately defeated the wicked Kansa.
As the most powerful incarnation of Lord Vishnu, Lord Krishna descended upon Earth with a significant purpose—to free the world from evil. His role in the epic Mahabharata was of utmost importance, and he preached the principles of good karma and Bhakti, emphasizing the path of devotion.
Janmashtami is celebrated with boundless enthusiasm and joy by Hindus worldwide. It is known by various names across India, such as Ashtami Rohini, Srikrishna Jayanti, Krishnashtami, Saatam Aatham, and Gokulashtami. On this sacred day, Hindus observe fasting and recite verses from the holy scripture, Bhagwad Gita, to seek spiritual enlightenment.
In our society, Janmashtami is an annual celebration filled with immense delight and enthusiasm. The entire community comes together to adorn their surroundings with vibrant lights. Temples are beautifully decorated with colorful electric lights, flowers, and other ornamental elements. Elderly women gather in the society park to sing devotional songs, known as Bhajans, dedicated to Lord Krishna.
Given Krishna's fondness for butter, the tradition of Dahi Handi is enjoyed during this festival. Children from society participate energetically in the Dahi Handi contest. In his childhood, Krishna was famously known as the "butter thief" or "Makhan chor" due to his mischievous nature and love for butter. He and his group of friends would playfully steal butter from their neighbors.
Last year, we had a delightful experience in our society during Janmashtami. Several earthen pots were suspended high above the street. A group of children formed a human pyramid below the pot, repeatedly attempting to reach its top. Despite the challenges, they persevered and successfully built the pyramid. The youngest boy then climbed to the pinnacle and broke the pot, showering everyone below with its contents of curd.
Janmashtami brings people together, regardless of their wealth or social status, to engage in a multitude of activities. Celebrants rejoice in the company of friends, relatives, and neighbors, participating in lively dancing, singing, and exchanging gifts. The youth actively engage in functions organized by the society, partaking in singing and dancing competitions, where they joyfully perform to songs dedicated to Lord Krishna. Society heads award prizes to the winners, fostering motivation and encouragement.
Krishnashtami instills a belief in virtuous actions and marks a day of happiness, joy, and the triumph of good over evil. It serves as a motivation to stand against malevolence and signifies the victory of righteousness. To lead a happy and successful life, it is essential to follow the teachings and advice imparted by Lord Krishna during his time on Earth. Janmashtami serves as a reminder to embody the qualities and values preached by Lord Krishna, such as compassion, righteousness, and selfless devotion.
By celebrating Janmashtami, individuals cultivate a sense of unity, fostering harmony and camaraderie among communities. The festival transcends barriers of age, gender, and social background, bringing people together in the spirit of joy and togetherness.
As the echoes of devotional songs and chants fill the air, devotees immerse themselves in the divine atmosphere, seeking spiritual solace and enlightenment. The celebration of Janmashtami not only commemorates the birth of Lord Krishna but also provides an opportunity for individuals to introspect, reflect upon their own lives, and strive for personal growth.
Moreover, Janmashtami instills a sense of responsibility towards society and the greater good. Inspired by Lord Krishna's teachings, devotees are encouraged to perform selfless acts of kindness and contribute to the welfare of others. Charity and philanthropy play a significant role during this auspicious festival, as individuals extend their support to the underprivileged and engage in charitable endeavors.
Ultimately, Janmashtami serves as a source of inspiration and guidance, encouraging individuals to lead righteous and meaningful life. It reminds us of the eternal principles of truth, love, and devotion, which can guide us toward a path of inner fulfillment and spiritual awakening.
As the festival of Janmashtami approaches each year, Hindus eagerly anticipate the joyous celebrations that lie ahead. It is a time when devotees come together in reverence, spreading the message of love and righteousness, and rejoicing in the divine presence of Lord Krishna. Through this auspicious occasion, Janmashtami continues to inspire, uplift, and unite individuals, fostering a deep connection with spirituality and the eternal teachings of Lord Krishna.
---
Also, Read
---
---
Daily Reading Comprehension Test - Attempt Now