India is known as the land of festivals because of its cultural diversity, faith, and religious beliefs among people of different religions.
Diwali is the biggest and one of the most famous and light-hearted festivals which is celebrated by billions of people.
In this post, you will find a few lines on Diwali for you.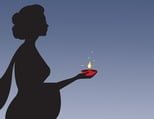 ---
Few lines on Diwali
---
Diwali, known as the festival of lights, is celebrated with great enthusiasm and zeal throughout India and by Indians residing in foreign countries.
It marks the victory of good over evil, symbolizing Lord Rama's triumph over the powerful demon king Ravana.
People clean and decorate their homes, light clay lamps (diyas) and candles, and illuminate the surroundings to drive away darkness and evil.
The festival holds religious significance, as devotees worship Goddess Lakshmi for wealth and prosperity and seek blessings for a prosperous future.
Diwali brings families and communities together, with people exchanging gifts, sweets, and dry fruits, and visiting their loved ones.
Children eagerly await Diwali to enjoy bursting fireworks, making rangolis, and decorating their homes.
While Diwali brings joy, it also poses risks due to fire accidents and pollution caused by crackers, prompting the government to encourage eco-friendly celebrations.
Diwali serves as a reminder of the importance of good deeds and encourages people to embrace happiness and peace.
The festival has a rich history and cultural significance, with India celebrating it for thousands of years, reinforcing unity and diversity.
Diwali stands as a beacon of hope, spreading light, positivity, and the message of triumphing over darkness in the hearts and lives of people.
You Asked, We Listened – Get Free Access to All Writing Lists 😍😍
---
Also, Read
---
Daily Reading Comprehension Test - Attempt Now