25th December is celebrated as Christmas Day across the world. Christmas is a sacred religious holiday and an annual festival celebrated every year.
Following are a few lines on Christmas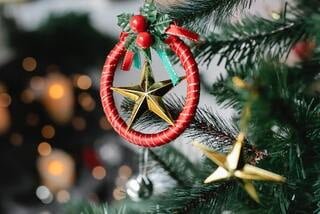 ---
Few Lines on Christmas
---
Christmas Day is celebrated worldwide on the 25th of December as a sacred religious holiday and an annual festival.
Originally a Christian festival, Christmas has become popular among people of all religions and backgrounds.
The celebration of Christmas has expanded beyond its religious roots, and people from diverse backgrounds participate with equal enthusiasm.
The day commemorates the birth anniversary of Jesus Christ, a spiritual leader and prophet whose teachings form the basis of Christianity.
Traditional customs associated with Christmas include exchanging gifts, decorating Christmas trees, attending church services, and sharing meals with loved ones.
In the United States, Christmas Day has been a federal holiday since 1870.
Homes are adorned with candles, lights, balloons, and other decorations, creating a festive atmosphere.
Christmas trees, either real or artificial, are decorated with lights, gift items, flowers, and other ornaments, adding to the festive ambiance.
Families and friends gather in front of the Christmas tree to celebrate, throwing parties, singing carols, and exchanging gifts.
The festive spirit extends to shopping malls and showrooms, which decorate their spaces with artificial pine or fir trees.
Christmas greetings and cards are exchanged among friends and family members, spreading joy and love during the holiday season.
Children eagerly await Christmas Day as they receive gifts and chocolates, often from someone dressed as Santa Claus.
Schools and colleges also partake in the festivities, with students wearing Santa Claus costumes or Christmas caps and receiving sweets and chocolates.
Dance shows, singing competitions, and festive parties are organized at various venues, allowing people to celebrate Christmas through music and dance.
Christmas is a time for Christians to reflect on the teachings of Jesus Christ and express their faith through prayer and confession.
As a public and religious holiday, Christmas Day results in the closure of government and non-government organizations, including schools and colleges, allowing people to plan long tours with their families.
You Asked, We Listened – Get Free Access to All Writing Lists 😍😍
---
Also, Read
---
Daily Reading Comprehension Test - Attempt Now