India is known as the land of festivals because of its cultural diversity, faith, and religious beliefs among people of different religions.
Diwali is the biggest and one of the most famous and light-hearted festivals which is celebrated by billions of people.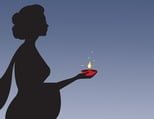 ---
Diwali essay in English 20 lines
---
Diwali, known as the festival of lights, is celebrated with great enthusiasm throughout India and by Indians abroad.
It symbolizes the victory of good over evil, commemorating Lord Rama's triumph over the demon king Ravana.
The festival is celebrated in October or November, 20 days after the festival of Dussehra.
Homes are cleaned and decorated, and new clothes are bought and worn to mark the occasion.
Clay lamps, called diyas, candles, and decorative lights illuminate houses to ward off darkness and evil.
Goddess Lakshmi, the goddess of wealth, is worshipped, and people leave their doors open to welcome her into their homes.
Sweets are prepared at home and distributed among friends and relatives, fostering a sense of togetherness.
Rangoli, a colorful art form, is created to adorn entrances and add beauty to the celebrations.
Children eagerly await Diwali to burst firecrackers, enjoy fireworks, and participate in the festive spirit.
Parties, dancing, singing, and exchanging gifts are common during Diwali celebrations.
Visiting relatives and friends and exchanging dry fruits are also part of the festivities.
Diwali holds significance in Hindu mythology and serves as a reminder of the importance of goodness and peace.
The festival unites people across towns, cities, and even in foreign countries, promoting a sense of national unity.
Having been celebrated for thousands of years, Diwali continues to be a cherished tradition in India.
It is a day of happiness, joy, and the triumph of righteousness, reinforcing the belief in good deeds.
Diwali serves as a reminder to cherish the real essence of happiness and peacefulness in our lives.
The festival fosters a spirit of love, compassion, and goodwill among people of different religions and cultures.
During Diwali, people come closer to their loved ones and strengthen their bonds of friendship and kinship.
It is a time for reflection, gratitude, and the expression of gratitude towards the blessings in our lives.
The festival signifies the victory of light over darkness, inspiring individuals to overcome obstacles and strive for a better future.
---
Also, Read
---
---
Daily Reading Comprehension Test - Attempt Now