India got freedom on the auspicious day of August 15, 1947. On this day India got freedom from English rulers after their rule of over 200 years.
This freedom was accomplished by the Indians after a great battle made by its freedom fighters for about 100 years.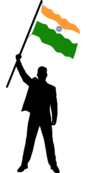 ---
10 Lines on Independence Day
---
Independence Day is celebrated on 15th August every year in India.
It commemorates India's freedom from foreign rule and the transfer of power from the British to the national government of free India.
The main celebration takes place at the Red Fort in Delhi, where the Prime Minister hoists the national flag.
Our first and most memorable Prime Minister started the celebration on August 15, 1947.
The day is marked with energy, excitement, and patriotic fervor across the country.
Government offices and buildings are adorned with flags and illuminated with lights.
Cultural programs, including patriotic songs and poems, are performed by students.
Parades and marches are held, and people enjoy flying kites as a symbol of independence.
Speeches are given to honor the sacrifices of freedom fighters like Mahatma Gandhi, Bhagat Singh, and Netaji Subhash Chandra Bose.
Independence Day serves as a reminder of the patriots' struggles and sacrifices and instills a sense of pride and determination among the citizens to safeguard the freedom of the nation.
---
You Asked, We Listened – Get Free Access to All Writing Lists 😍😍
---
Also, Read
---
Daily Reading Comprehension Test - Attempt Now