Diwali is the biggest and one of the most famous and light-hearted festivals celebrated by billions of people.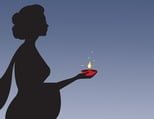 10 lines on Diwali in English for class 3
Diwali is a special festival celebrated in India to honor the victory of good over evil.
People celebrate Diwali by lighting up their homes with colorful lights, clay lamps, and candles.
During Diwali, we worship Goddess Lakshmi, who brings prosperity and wealth to our homes.
Families and friends come together to exchange gifts, sweets, and dry fruits on this joyful occasion.
Children love Diwali because they get to burst crackers, make beautiful rangoli designs, and decorate their houses.
Diwali is a time for happiness, joy, and spreading love and kindness to everyone around us.
It is important to be careful while bursting crackers and to follow safety guidelines to avoid accidents.
Diwali is celebrated not only in India but also by Indians in foreign countries.
On Diwali, we remember the story of Lord Rama and how he defeated the evil king Ravana with the help of his loyal friends.
Diwali generates belief in good deeds and marks a day of happiness, joy, and the end of evilness.
You Asked, We Listened – Get Free Access to All Writing Lists 😍😍
---
Also, Read
---
---
Copyright Notice:📚 Teachers and students are granted permission to use, reproduce, and distribute this content solely for educational and non-commercial purposes. 🚫 Unauthorized copying, distribution, or reproduction for commercial purposes is strictly prohibited. Any infringement may result in legal action. 
---
Daily Reading Comprehension Test - Attempt Now
Daily Reading Comprehension Test - Attempt Now