25th December is celebrated as Christmas Day across the world. Christmas is a sacred religious holiday and an annual festival celebrated every year.
It is primarily the festival of Christian people however has become exceptionally popular among everyone. Following are the important 10 lines on Christmas.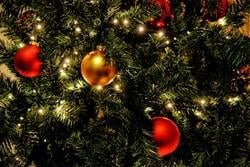 ---
10 lines on Christmas
---
Christmas Day is a globally celebrated festival, transcending religious boundaries and embraced by people of all faiths and backgrounds.
It commemorates the birth of Jesus Christ, a revered spiritual leader whose teachings form the foundation of Christianity.
During this festive occasion, individuals engage in customs like exchanging gifts, adorning Christmas trees, attending church services, and enjoying meals with loved ones.
The tradition of decorating homes with candles, lights, and ornaments, including the iconic Christmas tree, adds to the joyous ambiance.
In modern times, artificial trees are commonly used, and shopping malls and showrooms contribute to the festive spirit with their own elaborate decorations.
Families and friends come together on Christmas Day, hosting parties, singing carols, and exchanging heartfelt greetings and cards.
Children eagerly anticipate the arrival of Santa Claus, who brings gifts and spreads cheer, often portrayed by a family member dressed up for the occasion.
Schools and colleges also participate in the festivities, organizing events where students don Santa Claus costumes and receive treats from the staff.
Entertainment venues such as parties, clubs, and restaurants hold dance shows and singing competitions, allowing people to revel in the Christmas spirit until late into the night.
Ultimately, Christmas serves as a reminder for Christians to reflect upon Jesus Christ's profound impact, while also providing an opportunity for everyone to come together and celebrate the joy and goodwill of the season.
You Asked, We Listened – Get Free Access to All Writing Lists 😍😍
---
Also, Read
---
Daily Reading Comprehension Test - Attempt Now